Daniel Nolan
Senior Welder - The Village at the Grand Traverse Commons historical renovation.
"I had to share this with anyone interested in the Multiplaz 3500 portable, gas-free unit plasma welding and cutting system."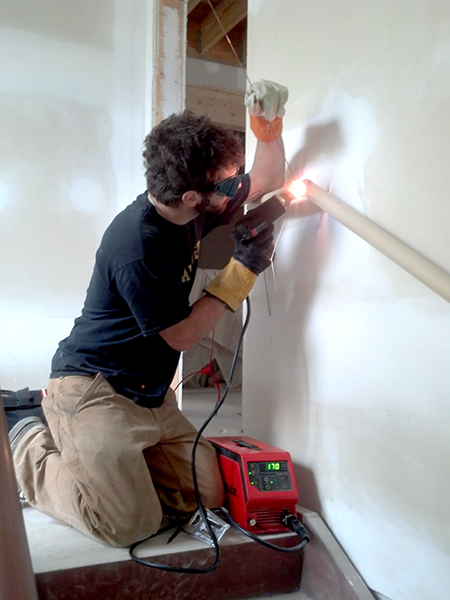 My name is Daniel Nolan. I purchased the Multiplaz 3500 in February 2013. I work for the historical project in Traverse City, Michigan called The Village at the Grand Traverse Commons. The project consists of 150 acre state mental institute that was built in 1877. The project was unique because it had every possible feature needed to be self-reliant including a farm, bakery, power plant and water supply. I am the senior welder on site helping restore and build a lot of the metal work.
On any given day I repair cast iron for the antiques there or cast aluminum for tool and machinery repair, fabricate gates and handrails to look historic to the building along with any other metal work that shop owners need done to display things, I also fabricate things like fall protection on top of roofs, chassis for counter tops and landings along with numerous other things to help the project as a whole move along.
Three months ago, my MIG broke. I decided to employ my Multiplaz and have never looked back.
The things I experienced firsthand that made me feel comfortable doing that where things like;
Being able to carry the unit and its fuel and filler rods over my shoulder while working on roofs and hard to reach locations.
The ability to have the 220v adapter so I can weld and cut to the full extent of the machine even when only household 110v is available as a power supply.
Being able to weld so many different types of metals and alloys with one machine
Being able to solder and braze with the Multiplaz
It saves me money on not having to buy shielding gases or expensive fuels
The welds look very clean and there is a small heat effected zone
There is no need for heavy protective gear. I can weld in short sleeves and #5 shade sunglasses, which helps a lot with endurance and productivity on hot long days
There are many other reasons I have come to enjoy this machine and these are just some of the main ones. I am sharing this with you because results matter and it is obvious the capabilities are there with this machine.
Note from Multiplaz management:
The owners and overseers of the The Village of Grand Traverse Commons have agreed to allow a progressive review of Mr. Nolan working with the Multiplaz on various welding and cutting projects around the 150 acre project. These technical reviews will be posted on our News section and Multiplaz, LLC Facebook page with pictures.