General Purpose Welding and Sculptural Design
Dwaine Seppala
Las Vegas, Nevada
Curriculum Vitae: R&D Scientist, Aerospace Test Mgr. Special Emphasis Defense Nuclear Weapons, MS Computer Science, BS Mathematics, BA Fine Art
Welding Experience: Oxy-fuel torches, MIG, Heliarc.
Training: Two days welding with George, Multiplaz senior welder with 15 years welding experience.
Here is my experience and critique: Grading of Product for ease of use and overall cost efficiency, scale of 1-5: Ease of Use 4, Cost Efficiency 5, for a score of 4.5. (welding takes practice).
Advantages:
Enables welding thin aluminum sheet using fluxes, creating beautifully annealed metal that can be hammer formed, and is shapeable without cracking during manipulation.
Multiplaz welds ferrous and non-ferrous metals including hard alloys, such as 6061 T6 with no problem now. To clarify, I'm not saying to anneal 6061 T6 but choose 1100 or 3003 aluminum alloy. Can weld even Stainless Steel without destroying the metals properties.
The unit design features FLEXIBILITY and comes with a plasma cutting torch and a welding torch, and offers 14,400 degree heat as compared to the 6000 of an acetylene torch. Mode 1 and Mode 2 offer plasma plus an electric arc beam that turns up the energy in a heavy focus.
Having had the experience of modifying wheel chairs for special situation customers, and doing so with oxy-acetylene and some flux (the old fashioned black stuff for stainless), I attempted a car wash project with cracks in their I-beam using the acetylene torch. I failed, and I knew I couldn't weld the stainless too long because I'd ruin the metal's properties and the car wash owner would have a worse situation on his hands than a few cracked welds. I decided to attempt to weld with the Multiplaz 3500 on ¼ inch stainless with Multiplaz's lead welder and if he had failed I would not have bought the equipment. I recently picked up some stainless scrap from a friend and have been cutting and welding it for practice. I look forward to handing my business card to every car wash in the Las Vegas area.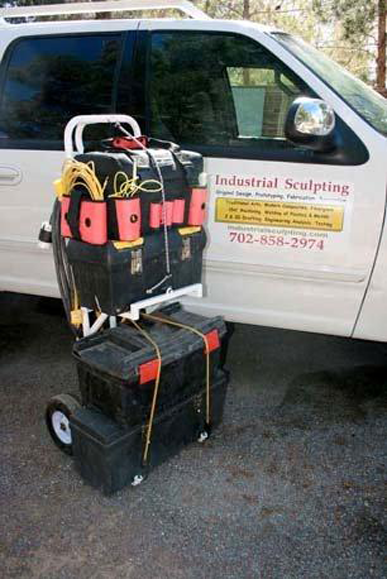 Two pics show my modified dolly for the tool boxes and my Multiplaz 3500, and a sculpting project, an objet d'art of a marriage Pandora's box, which is NEVER to be opened since the spirit that would flee is "Hope". Note that I purposely globbed on the filler rod material for effect when I welded the box together. I included the chain and a typical galvanized padlock, which I made look ancient by melting the entire surface. I added a dime store ring that has two hearts and diamonds for a touching contrast to an "industrial" sculpture. It's a work in progress, and I have other ideas.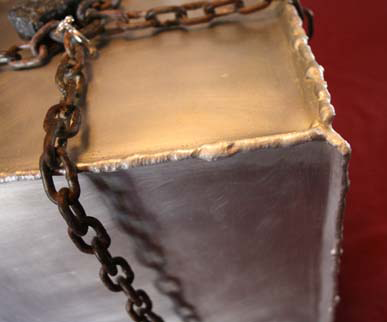 I thank the creators and marketers of the Multiplaz 3500, an incredible tool.