Auto and Body Shop
Francis Motors Collision Center
Sparta North Carolina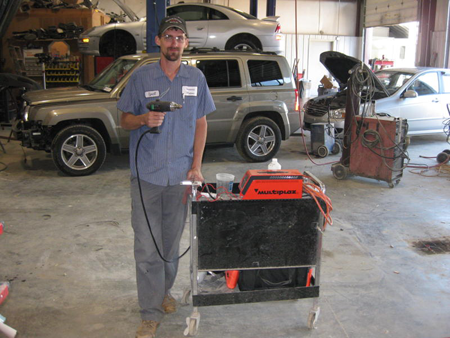 My name is Mike Francis, owner and operator of Francis Motors Collision Center in Sparta North Carolina. We have been in business since 1986, offering collision and mechanical repair. I was looking for a new plasma cutter, and came across the Multiplaz 3500 on the internet. It sounded very interesting, and after thinking about it a while I decided to purchase one, understanding that if this machine would do half of what it said, it would be worth it. After reading the manual and viewing the instructional DVD, we put it to work in our shop. My son Tyrell was replacing a quarter panel in a Subaru Impreza, and used the Multiplaz 3500 to cut, remove and spot weld on the old panel, and cut the new panel to fit the car. He did not even grind the paint, no need, he got a very precise cut without warping the panel at all, and was able to weld the new panel it straight away with Multiplaz.
There are almost no sparks or splatter when welding with Multiplaz. When pulling on the frame machine, you can concentrate heat to the direct spot you are working on. Even working close to wires and hoses. Overall, excellent tool for heating and straightening auto panels and frames, heating rusted and frozen bolts removing them with ease. We have cut stainless steel exhaust bolts and aluminum pipes, and again it is excellent tool for exhaust work. We don't need our old torch set anymore, and are still finding jobs for this machine, having had no problems with the machine. It is a very well built, smart machine and we are still using the original tips purchased with the unit.
This is an excellent tool for any body shop or mechanical shop. I highly recommend the Multiplaz 3500, and was pleased to offer this critique.